By Chris Wiley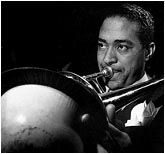 Dickie Wells
Photo by William P. Gottlieb
Dickie Wells was one of the great jazz trombone stylists. At his best, he played with subtle swing and mellow smoothness, but he if he wanted to, he could get your attention a sudden rip, a high note, or both.
Wells was born in Centersville, Tennessee in 1909 and raised in Louisville, Kentucky. In 1927, at eighteen, he began his career as a musician by moving to New York City and finding work in jazz bands led by Lloyd Scott, Elmer Snowden, Charlie Johnson, and Luis Russell.
Dickie Wells Sound Clips
Taxi War Dance

Recorded with Count Basie, 3/19/1939

Dickie's Dream

Recorded with Count Basie, 9/5/39

Four O'Clock Drag

Recorded with the Kansas City Six, 3/27/44
These sound clips are provided for educational purposes only.
By the early 30s, Wells' playing become known and he gained membership in two pivotal swing bands led by Benny Carter and Fletcher Henderson. (Benny Goodman, who is often given credit for igniting the Swing Era with his "Lets Dance" radio broadcast, did so with some arrangements he purchased from Fletcher Henderson. While Henderson was never able to make a commercial success with his own band, he did enjoy a good reputatation as an arranger.)
Wells' membership in both bands followed on the heels of a trombonist he was inspired by: Jimmy Harrison. Dickie joined Henderson in 1933, two years after Harrison moved on to join Chick Webb's band. Unfortunately, Harrison succumbed to serious stomach ulcers a short time later, and Wells and Harrison apparently never got a chance to play together.
Wells moved on to Teddy Hill's band in the mid-thirties, and worked with him in Europe. This European connection proved important in 1937, when Dickie made some successful recordings with a group that included guitarist Django Reinhardt. Sweet Sue from that date features an excellent solo by Wells, and the trombonist also recorded the same tune to good effect with bandleader Spike Hughes.
Dickie joined the Count Basie band in 1938, beginning an important association that lasted with some interruptions until 1950. During his first period with the Basie, Dickie recorded some of his best solos including Taxi War Dance and Dickie's Dream. Both solos demonstrate Wells' amazingly on-target swing and other hallmarks of his style: a warm, rich sound, a vocal quality, and a distinctive vibrato that intensified torward the end of his notes, often dissolving into a lip trill. It was a perfect style for playing behind blues singer Jimmy Rushing, as Dickie was often called upon to do while a member of the Basie band.
French jazz critic Andre Hodier praised Wells' early solos with Basie, but believed that after World War II his playing no longer reached the same heights. Certainly, Dickie's playing did change. Some of his postwar solos may be have been less consise simply because he had more room to stretch out once freed from the limits of an 8-bar solo on one side of a 78 rpm record. Wells' phrases seemed to get bigger and broader over time, but he never lost his swing or his musical sense of humor.
Although in the later years of his career Wells did not return to the Basie band, he did maintain an association with former Basie sidemen including Buddy Tate and Earle Warren. As time went on, Dickie worked with younger musicians who were fascinated with the expressive styles of swing-era jazz players.
In conjunction jazz writer Stanely Dance, Wells published The Night People in 1971. The book contains remembrances from Dickie's career, adding to the documentation of jazz music.
Dickie Wells died in 1985, not as well known as he should have been. Of course he should be remembered as an important trombonist who helped define what it means to swing, paving the way for players who came later. But even if one were to forget his historical significance, listening to Wells' playing today is still a pleasure all by itself.