For jazz appreciation month, more about jazz trombonist Jimmy Harrison, Coleman Hawkin's friend and bandmate mentioned in the Hawkins documentary from the previous post.
Harrison was born in Louisville, Kentucky, in 1900. He was raised in Detroit, Michigan. Like Jack Teagarden, he was self largely taught, but started the trombone later, as a teenager. Soon, he was able to get work as a musician in his hometown, later gigging throughout the midwest. Harrison eventually made it to New York City, and continued a promising trajectory. There were stints with with Fess Williams, Elmer Snowden, June Clark, Billy Fowler, and even, in the early 20s, Duke Ellington.
Kaiser Marshall, Fletcher Henderson's drummer, remembered meeting Jimmy Harrison at Small's 5th Avenue Club in 1923, when he was playing with cornetist June Clark's five-piece band. He recalled:
"Jimmy played riffs and often played his trombone very high, so that sometimes you would think two cornets were playing instead of one…He was crazy about Louis Armstrong, and some of the things that Louis made on his cornet or trumpet, Jimmy could play the second part of it. In fact like I said, before you could think, two trumpets were playing."
Harrison joined Fletcher Hendersons's band in 1925, becoming bandmates with Coleman Hawkins. Kaiser recalled that Harrison had a one-year contract with Charlie Johnson and that Fletcher Henderson had to "buy his contract in order get him." The meeting between Jimmy and Jack Teagarden took place soon after, in part engineered by Hawkins himself at the Roseland Ballroom. Later, the musicians put together jam sessions at Marshall's place. Kaiser again: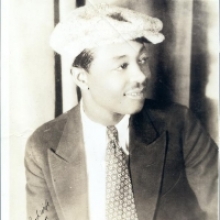 Harrison on record:
Blazin' May 29, 1925 with Fletcher Henderson's orchestra: Harrison's solo is in at 1:10:

Sweet and Hot 1931 with Fletcher Henderson's orchestra: Jimmy Harrison, trombone and vocal.
"Jack Teagarden … used to come over to our house often, sometimes staying all night, and we would have a slight jam ses­sion between Hawk who lived only a few doors from us. So Jack would play piano, Jimmy trombone, Hawkins tenor, and myself on my rubber-pad I kept at home. Then Hawk would play piano, Jack and Jimmy trombone. My, what fun we had!"
Most of Harrison's best recorded solos are with Benny Carter's Chocolate Dandies, a group that at the time had a fair amount of overlap, personnel wise, with Fletcher Henderson's aggregation.
Here's Jimmy with his pre-Henderson employer, Charlie Johnson. With Johnson's "Paradise Orchestra," the tune is Walk That Thing, recorded on September 19, 1928:
Also with Johnson, The Boy in the Boat from 1928:
Here's Jimmy with Benny Carter's Chocolate Dandies group: Dee Blues, recorded on December 3, 1930:
In addition to arriving at similar jazz trombone styles inspired by Louis Armstrong, Harrison and Teagarden were both singers. Jimmy added something more, entertainment wise, which was a Bert Williams inspired, vaudeville-style "preaching" act. Some of these performances by Harrison were apparently recorded; none have yet surfaced.
Jimmy Harrison continued playing with Fletcher Henderson through early 1931. He joined Chick Webb's band next. Sadly, he became ill soon after, succumbing to a severe stomach ailment which has been described as "ulcers," or possibly cancer. He was only 29.
Including Coleman Hawkins, musicians that enjoyed much longer careers in jazz never forgot about Jimmy Harrison. Benny Carter lauded him for his "warmth, tone, feeling and style," and felt that recordings don't give a full picture of his playing. Trumpeter Rex Stewart also testified to Harrison's preeminence as a swing trombonist in mid-twenties New York, adding that, because of the trombonist's early death, "History inadvertently and unwittingly bypassed Jim."