Note: Some of the links below will take you to the iTunes music store.
Recently, while searching the jungle of the iTunes music store, I came across an interesting iTunes U/Podcast by Dr. Gordon Vernick titled Jazz Insights.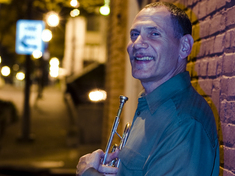 Vernick, who heads up the jazz studies program at Georgia State University, started Jazz Insights as a 10-minute radio show: short vignettes on the basics of jazz for the uninitiated. Since then, he's continued the program by covering the work of individual jazz artists and their place in the history of the music.
On a series of shows about J.J. Johnson, an initial mention of the slide trombone's recalcitrant nature is inevitable. Vernick says:
The Trombone is a very difficult instrument. It's a very ancient instrument. It's been around for hundreds, if not thousands of years…
It'll come as no surprise that Dr. Vernick uses recordings as one of the vehicles to recount a jazz artist's career and development. Continuing with Johnson — the only trombonist featured so far — Vernick begins with J.J.'s early swing-style playing on Lester Leaps In for Norman Granz's Jazz At the Philharmonic. Johnson's emerging be-bop style is illustrated by I Mean You with Coleman Hawkins and How Deep Is the Ocean? with Charlie Parker, before we hear classic be-bop dates with J.J. as the leader. By the end of the 40s, we hear how J.J. cooled off a bit.
While recounting his career in the 50s, Vernick discusses Johnson's involvement in the somewhat short-lived idea of Third Stream Music (A Mix of Jazz and Classical Music) by playing us some of the rare recording Birth of the Third Stream,while getting to J.J.'s musical connection to Miles Davis. Naturally, there's also discussion of The Eminent J.J. Johnson Volumes One and Two. Along the way, Vernick includes some other important Johnson recordings, including Jay and Kai + 6 (below, courtesy YouTube) and Stan Getz and J.J. Johnson at the Opera House.
I won't spoil it by recounting all of Vernick's show on J.J. here. You really should go give it a listen yourself. Vernick's presentational style is friendly and geared towards a jazz novice, but it's still interesting if you happen to know more. In other words, Jazz Insights is aptly named. Plus, Dr. Vernick has recorded programs on Jackie McLean, Thad Jones, Scott LaFaro, Stan Getz, and other artists. Check it out.