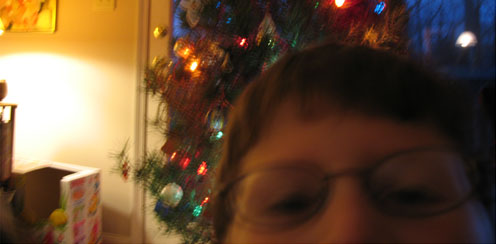 OK, so I know all that stuff I said about holidays and enjoying the holidays, and avoiding the holidays, and etc., but none of that happened, possibly except for the enjoying part, which somehow happened anyway.
What else, you might ask, did I manage not to avoid? Well, in the above picture, you can see the rough-housing nephew. With the nephew, I did lots of throwing around of an exercise ball. Alternately, and for the entertainment of the nephew, I pretended to be sisyphus, pushing an exercise ball up to nowheresville and falling back down again. In the process, I think I herniated the sisyphus disc. Funny thing about the sisyphus: the nephew had never heard of sisyphus. Seriously kid! You're 7 years old! It's time you heard of sisyphus, and what a sisyphean task it apparently is to keep you entertained with an exercise ball, despite the presence of a nintendo Wii!
Don't get me wrong—I'm very fond of the nephew, but it was relief to get back to Minneapolis, MN. Minneapolis, as you may not know, is now known as the "quasi-frozen" or "tepid north," and also the home of underground flamenco music.
Happy New Year.