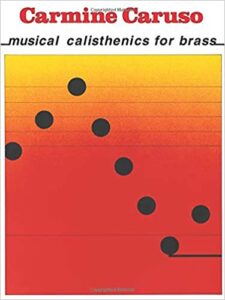 Because it's mostly true, it has often been said that when it comes to playing a brass instrument, there's no substitute for a good one-on-one teacher. But it's also true that people have been playing brass instruments for hundreds of years, and that, consequently, some great teachers have been able to collect their best insights and teaching methods into books. In a series of posts, I'm going to write about some books on brass playing I think are well worth your while. Is all the information you'll find in these books perfectly consistent? Can you guess what the answer to that question is? I can say you'll find common threads of wisdom throughout these books. First up, it's Carmine Caruso's Musical Calisthenics for Brass.
When I was in high school, I studied with a teacher who was studying with Carmine Caruso [broken link removed] at the time [Warning: clicking on the previous link will cause you to return to the golden glory days of the World Wide Web, back when it was full of stars]. In turn, my teacher taught me many of Caruso's brass calisthenics. To over-simplify somewhat, Caruso's teaching and exercises revolve around three things:
The exposure of embouchure muscles to the actions they need to perform in order to play a brass instrument.
The consistency of airflow, or "blow."
The timing of 1 and 2 (accomplished by tapping the foot during exercises).
In the book, Carmine says this about timing:
It takes over 200 muscles to play a note. It's important to remember that before you play music you must train your muscles to work together. The key factor is timing: it will determine when the muscles start and stop a certain movement. The type of time is established by tapping the foot to a regular, recurring beat.

You expose the muscles to a physical activity by repetition and timing until the muscles synchronize into a conditioned reflex response …
Caruso's method also specifies a single setting of the embouchure on the mouthpiece for the duration of each exercise. During rests, the player breathes through the nose in order not to disturb the embouchure setting. The aim is to minimize the unnecessary movement of the muscles so that they can learn what to do. Caruso stresses that these are, after all, calisthenics, and not musical exercises.
What Carmine doesn't discuss is how to create a embouchure specifically. Here, an embouchure that works — at least to a degree — is a given. This does not preclude the idea that, for a given brass player, a certain embouchure formation may be most efficient and simply "work better." In my own experience, once I identified embouchure formation that worked well for me, Caruso's exercises became that much more valuable.
How do you form an embouchure for playing a brass instrument? We'll undoubtedly come across ideas about that as we proceed through the books I'll be discussing in the next installment.