Last time, I wrote about the varying quality of digital transfers at the iTunes music store, specifically on some Kai Winding and J.J. Johnson recordings. The odd situation I mentioned was that newer cover art sometimes accompanies some digital transfers of the albums — even from a scratchy LP as the source ― while the original cover art sometimes accompanies separate digital transfers, which — possibly ― come from the original master tapes.
But wait — there are more geeky details: below is the original LP cover art for J Is For Jazz. Look familiar? The striking photo sets J.J. against a black background, head-on down the length of his trombone slide, just like the art for Kai Winding's The Trombone Sound (See the last post, which appeared far too long ago).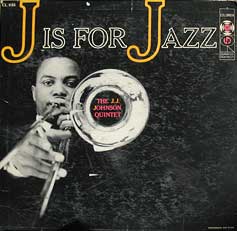 What you can't see on the iTunes cover art is the photo credit that exits on the LP versions. Not surprisingly, both of these album cover photos are by the same photographer, Dan Wynn, who died in 1995. Although he had training in art, Wynn began developing technical skills in photography while serving in the U.S. Army Air Force during World War II. Out of the Army in 1947, he began focussing his photographic eye on fashion while working for Seventeen Magazine. In his subsequent career, he ended up photographing nearly everything — cars and scooters, food, models, movie stars, and, of course, musicians.