In October of 1958, Jack Teagarden and his working band undertook a tour of the near east for the U.S. State Department. The trip covered eighteen countries and 17,000 miles, winding up in January of 1959. The King of Thailand, himself a saxophonist and composer, was happy to see Teagarden, someone whose music he had only enjoyed on recordings up until that time. Naturally, the King decreed a jam session at his palace — it went on for 6 hours by Teagarden's own account. "You tell your friend Eisenhower that you're the finest thing he's ever sent us," the King said.
Of one concert stop, Teagarden later remembered:
"We played a kind of fair in Laos before about two thousand people, and they just stood there for two hours, with their arms folded, the women with babies on their backs. They didn't clap, they didn't say anything. But they didn't move, either. They stayed until the last note."
It was a taxing tour for the musicians involved. Because of the ambassadorial mission, the band had to be available for unscheduled concerts and performances, which added to the expected fatigue. In Afghanistan, there was a scarcity of pianos. Most of the band's members got the flu. Jack's bassist, Stan Puls, got appendicitis and had to be taken off the itinerary. He was replaced by Lee Ivory, a very capable bassist as well as an active duty serviceman (and apparently a reporter for Stars and Stripes).
In the amazing kinescope shown here, we pick up the band near the end of its tour in Japan. Teagarden looks gaunt — he had contracted uremia during this leg — but is otherwise in good musical form, as he always seemed to be. This TV-film is incomplete — some of the reels were apparently loaned out and never returned. A Japanese band plays and grapples (well) with the style that Teagarden and company tossed off without seeming to try. Jack performs with a studio orchestra next; included are Stars Fell on Alabama, Diane, Peg O' My Heart, and Indiana. This studio orchestra format was becoming more common in Jack's later recordings for Capitol Records. The working band returns for When the Saints Go Marching In.
Jack Teagarden's working band, shown in the film:
Max Kaminsky, trumpet
Jerry Fuller, clarinet
Don Ewell, piano
Lee Ivory, bass
Ronnie Greb, drums
In July of 1959, Jack recorded the King of Thailand's tune, When for Roulette Records.
Teagarden later said of the trip's mission, "All the music I've played has finally paid off. I feel that I did some good for America."
Today is the day of the big rapture, so it might be fitting to consider a few tunes for the end-times. Of course, many people are familiar with REM's It's the End of the World As We Know It, but how many have heard Mose Allison's Ever Since the World Ended?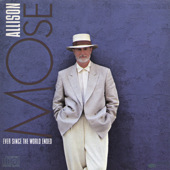 And, let's not forget man-made Armageddon. In the movie, Dr. Strangelove, Slim Pickens rode the atomic bomb down to the earth to Vera Lynn's We'll Meet Again.
Last time, I wrote about the varying quality of digital transfers at the iTunes music store, specifically on some Kai Winding and J.J. Johnson recordings. The odd situation I mentioned was that newer cover art sometimes accompanies some digital transfers of the albums — even from a scratchy LP as the source ― while the original cover art sometimes accompanies separate digital transfers, which — possibly ― come from the original master tapes.
But wait — there are more geeky details: below is the original LP cover art for J Is For Jazz. Look familiar? The striking photo sets J.J. against a black background, head-on down the length of his trombone slide, just like the art for Kai Winding's The Trombone Sound (See the last post, which appeared far too long ago).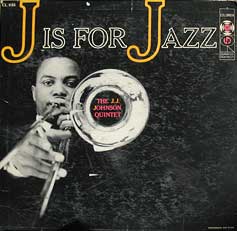 What you can't see on the iTunes cover art is the photo credit that exits on the LP versions. Not surprisingly, both of these album cover photos are by the same photographer, Dan Wynn, who died in 1995. Although he had training in art, Wynn began developing technical skills in photography while serving in the U.S. Army Air Force during World War II. Out of the Army in 1947, he began focussing his photographic eye on fashion while working for Seventeen Magazine. In his subsequent career, he ended up photographing nearly everything — cars and scooters, food, models, movie stars, and, of course, musicians.
Late last year, we lost one of the gems of jazz, Dr. Billy Taylor. So far, there have been numerous online tributes, like this one at A Blog Supreme, or this one at Jazz Wax. It's been mentioned frequently that Taylor was an educator. While that's certainly true, it ought to be pointed out that most of the people Taylor educated were non-musicians. For many who found jazz a little esoteric and might have wondered, "Where's the melody?", Taylor was about the best explainer and ambassador to the uninitiated you could possibly hope for. Not only did he respond to all questions about jazz music with incredible patience, he did so in way that suggested he truly savored the explanations. Given the same inquiries, Miles Davis might have thrown something at you.
It's conceivable that you have heard Taylor talk about jazz more often than you heard him play it. His own playing sat comfortably in the mainstream, and while his style didn't venture into the realms of say, Herbie Hancock or Chick Corea, it did what it needed to do — express Billy Taylor. To bring Miles Davis back into it again, Taylor once said of him that it's much harder to play with simplicity than it sounds like it might be. So true.
There are many great clips featuring Taylor on YouTube. Below, Billy talks about National Educational Television's pioneering show, The Subject is Jazz, that aired nationally on NBC in 1957-58. In the original clip, Taylor explains "Cool Jazz," and the featured group performs a version of Tadd Dameron's Hot House, and Miles Davis's Half Nelson.
10.13.14 UPDATE: The video mentioned above was removed from YouTube
Another great one: