In October of 1958, Jack Teagarden and his working band undertook a tour of the near east for the U.S. State Department. The trip covered eighteen countries and 17,000 miles, winding up in January of 1959. The King of Thailand, himself a saxophonist and composer, was happy to see Teagarden, someone whose music he had only enjoyed on recordings up until that time. Naturally, the King decreed a jam session at his palace — it went on for 6 hours by Teagarden's own account. "You tell your friend Eisenhower that you're the finest thing he's ever sent us," the King said.
Of one concert stop, Teagarden later remembered:
"We played a kind of fair in Laos before about two thousand people, and they just stood there for two hours, with their arms folded, the women with babies on their backs. They didn't clap, they didn't say anything. But they didn't move, either. They stayed until the last note."
It was a taxing tour for the musicians involved. Because of the ambassadorial mission, the band had to be available for unscheduled concerts and performances, which added to the expected fatigue. In Afghanistan, there was a scarcity of pianos. Most of the band's members got the flu. Jack's bassist, Stan Puls, got appendicitis and had to be taken off the itinerary. He was replaced by Lee Ivory, a very capable bassist as well as an active duty serviceman (and apparently a reporter for Stars and Stripes).
In the amazing kinescope shown here, we pick up the band near the end of its tour in Japan. Teagarden looks gaunt — he had contracted uremia during this leg — but is otherwise in good musical form, as he always seemed to be. This TV-film is incomplete — some of the reels were apparently loaned out and never returned. A Japanese band plays and grapples (well) with the style that Teagarden and company tossed off without seeming to try. Jack performs with a studio orchestra next; included are Stars Fell on Alabama, Diane, Peg O' My Heart, and Indiana. This studio orchestra format was becoming more common in Jack's later recordings for Capitol Records. The working band returns for When the Saints Go Marching In.
Jack Teagarden's working band, shown in the film:
Max Kaminsky, trumpet
Jerry Fuller, clarinet
Don Ewell, piano
Lee Ivory, bass
Ronnie Greb, drums
In July of 1959, Jack recorded the King of Thailand's tune, When for Roulette Records.
Teagarden later said of the trip's mission, "All the music I've played has finally paid off. I feel that I did some good for America."
Note: Some of the links below will take you to the iTunes music store.
Recently, while searching the jungle of the iTunes music store, I came across an interesting iTunes U/Podcast by Dr. Gordon Vernick titled Jazz Insights.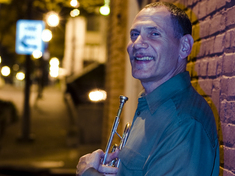 Vernick, who heads up the jazz studies program at Georgia State University, started Jazz Insights as a 10-minute radio show: short vignettes on the basics of jazz for the uninitiated. Since then, he's continued the program by covering the work of individual jazz artists and their place in the history of the music.
On a series of shows about J.J. Johnson, an initial mention of the slide trombone's recalcitrant nature is inevitable. Vernick says:
The Trombone is a very difficult instrument. It's a very ancient instrument. It's been around for hundreds, if not thousands of years…
It'll come as no surprise that Dr. Vernick uses recordings as one of the vehicles to recount a jazz artist's career and development. Continuing with Johnson — the only trombonist featured so far — Vernick begins with J.J.'s early swing-style playing on Lester Leaps In for Norman Granz's Jazz At the Philharmonic. Johnson's emerging be-bop style is illustrated by I Mean You with Coleman Hawkins and How Deep Is the Ocean? with Charlie Parker, before we hear classic be-bop dates with J.J. as the leader. By the end of the 40s, we hear how J.J. cooled off a bit.
While recounting his career in the 50s, Vernick discusses Johnson's involvement in the somewhat short-lived idea of Third Stream Music (A Mix of Jazz and Classical Music) by playing us some of the rare recording Birth of the Third Stream, while getting to J.J.'s musical connection to Miles Davis. Naturally, there's also discussion of The Eminent J.J. Johnson Volumes One and Two. Along the way, Vernick includes some other important Johnson recordings, including Jay and Kai + 6 (below, courtesy YouTube) and Stan Getz and J.J. Johnson at the Opera House.
I won't spoil it by recounting all of Vernick's show on J.J. here. You really should go give it a listen yourself. Vernick's presentational style is friendly and geared towards a jazz novice, but it's still interesting if you happen to know more. In other words, Jazz Insights is aptly named. Plus, Dr. Vernick has recorded programs on Jackie McLean, Thad Jones, Scott LaFaro, Stan Getz, and other artists. Check it out.